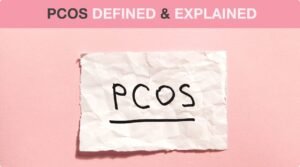 PCOS (Polycystic Ovarian Syndrome)
A hurdle for  Today's Woman-
Polycystic ovary syndrome (PCOS) is a condition that affects a woman's hormone levels.
Women with PCOS produce higher-than-normal amounts of male hormones. This hormone imbalance causes them to skip menstrual periods and makes it harder for conceiving a pregnancy.
PCOS also causes hair growth on the face and body and baldness. And it can contribute to long-term health problems like diabetes and heart disease.
WHAT HAPPENS TO THE OVARY IN PCOS?
 In PCOS – ovaries are enlarged containing multiple small cysts (polycystic ovaries).
CAUSES OF  PCOS-
There are no certain causes of PCOS, however, the contributing factors include:
Excess androgen: Overproduction of androgen by ovaries causes may lead to hirsutism and acne

Excess production of insulin: Insulin hormone controls the blood sugar levels in the human body. When human cells become resistant to the action of insulin, their blood sugar level increases. As a result, the body produces an excess of insulin to control this increased blood sugar level. Excessive insulin production in turn increases the production of androgens which are the male hormones, otherwise very less in females. Increased androgen production causes difficulty with ovulation.

Heredity: Certain genetic correlations may exist with PCOS in women.

Presence of low-grade inflammation: Women with PCOS experience a low-grade inflammation that may stimulate polycystic ovaries to produce androgens.
SYMPTOMS OF  PCOS-
Some women start experiencing symptoms around the time of their first period. Signs and symptoms of PCOS may vary; however, the symptoms are generally more severe in obese patients. Some of the commonly reported signs and symptoms of PCOS include:
Acne

Darkening of the skin

Hirsutism (abnormal growth of hair on face and body)

Irregular menstrual cycle

Polycystic ovaries, sometimes both ovaries may be involved i.e Bilateral Polycystic ovaries or ovarian cysts

Skin tags

Thinning hair

Weight gain
COMPLICATIONS  OF PCOS-
Some of the possible complications of PCOS are:                                                                       
  Abnormal Uterine bleeding

Psychological disorders like depression and eating disorders

Endometrial cancer

Pregnancy-induced or Gestational diabetes and/or hypertension

Infertility

Metabolic syndrome

Miscarriage or premature birth
DIAGNOSIS OF PCOS-
Blood Investigation –

Routine – Blood Sugar Level, Glucose tolerance test, Lipid Profile, SGOT, SGPT
Hormonal Assay-   FSH, LH, Prolactin, Free and Total Testosterone, DHEA,  Free T4 and TSH.
For Insulin Resistance-  Serum Insulin F and PP.
Sonography – USG of abdomen and pelvis is useful for evaluation of the ovarian size and cyst size.
Treatment for PCOS-
The treatment plan for PCOS consists of two lines-
1) With medication –
  Medications for:
Regulation of Menstrual cycle.

Promoting ovulation

Reduction of excessive hair growth

And for Insulin Resistance
2) With Lifestyle Modification
Maintenance of a healthy weight: Weight loss can lower insulin and androgen levels and may restore ovulation.

Diet management and limitation in consumption of carbohydrates: High-carbohydrate and low-fat diets may increase insulin levels.

Exercise regularly: Exercise helps lower blood sugar levels and control body weight.
Disclaimer :
"The content of this publication is developed by third party content providers like clinicians, medical writers and experts and is for educational purpose only. We request you to please consult a Registered Medical Practioner or Doctor before deciding the appropriate diagnosis and treatment."
We provide the best diagnostic services on Sinhgad Road at Nanded City(Head Office). We have our branches at Dhayri, Warje, Ambegaon Katraj, Kirkitwadi, Manik Baug, Donje, and Undri. We also provide the Home Collection Facility. For more info, visit us at https://www.sahayogdiagnostics.in/.