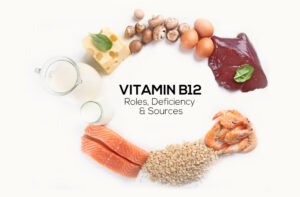 VIT B12 DEFICIENCY –
(MEGALOBLASTIC ANEMIA)   
Vitamin B12 does many things for the human body. It is needed for nerve tissue health, brain function, and the production of red blood cells. Cobalamin is another name for vitamin B-12. Since our body doesn't make vitamin B12, we have to get it from animal-based foods or supplements. And we should do that regularly because our body doesn't store vitamin B12 for a long time.
ROLE OF VIT B12 IN THE HUMAN BODY- 
Involved in the metabolism of every cell of the human body.

It is a cofactor in DNA synthesis and fatty acid and amino acid metabolism.
It is imperative in the normal functioning of the nervous system via its role in synthesizing myelin.
In the maturation of developing red blood cells in the bone.
FOOD SOURCES OF VIT B12-
You can get vitamin B12 in nonveg foods, which have it naturally.

 Animal sources include dairy products, eggs, fish, meat, and poultry.
The average recommended amounts for Adults: 2.4 mcg (2.6 mcg per day if pregnant and 2.8 mcg per day if breastfeeding)
VIT B12 DEFICIENCY CAUSES-
 Mostly Vit B12 Deficiency is because by insufficient intake of vitamin B12 as its only source is a non-veg diet.  
 A second most common cause is impaired absorption due to a loss of intrinsic gastric factor, which must be bound to food-source B12 for absorption to occur.
 It also occurs in patients on long-term antacid therapy, using proton pump inhibitors, H2 blockers, and in patients who had undergone weight loss surgery or another operation that removed part of their stomach, heavy alcohol consumption. Patients suffering from conditions that affect your small intestines, such as Crohn's disease, celiac disease, bacterial growth, or parasite and Immune system disorders, such as Graves' disease or lupus also suffer from B12 deficiency. 
IMPACT OF DEFICIENCY ON BODY-
B12 Deficiency leads to-
Megaloblastic anemia.

Pernicious anemia.
Demyelinating Nervous System Disorder.
Untreated B12 deficiency can cause vascular disease, including stroke, myocardial infarction, pulmonary embolism, and deep vein thrombosis because this deficiency causes hyperhomocysteinemia.
SYMPTOMS OF DEFICIENCY-
  At first, when deficiency is not such severe symptoms are very vague like depression, confusion, memory problems, and fatigue which are primarily seen in any anemia. As deficiency progress, symptoms of neurological involvement are seen like balance problems, paresthesias, tingling and numbness, weakness, dizziness, postural hypotension, and visual disturbances. These symptoms dramatically increase the risk of falls, which, in turn, lead to trauma.
DIAGNOSIS OF DEFICIENCY
 It can be easily diagnosed by simple blood investigations such as
 Complete Blood Count – It shows Raised MCV (>110). A peripheral smear shows Macrocytes, Macroovalocytes, and Pancytopenia.

 Serum Vit B12 Levels.
Serum Folic acid Assay.
If Rx still does not respond, then, in that case, a test for INTRINSIC FACTOR  and BONE MARROW is done.
TREATMENT –
 The line of management is decided depending on the severity of the deficiency and Hb level, and it includes administration of Vitamin B12 either orally or in injectable form.
Disclaimer :
"The content herein has been developed by clinicians and/or medical writers and/or experts. The information contained herein is for educational purpose only and we request you to please consult a Registered Medical Practioner or Doctor before deciding the appropriate diagnosis and treatment."
  We provide the best blood pathology diagnostic services on Sinhgad Road at Nanded City(Head Office). We have our branches at Dhayri, Warje, Ambegaon Katraj, Kirkitwadi, Manik Baug, Donje, and Undri. We also provide the Home Collection Facility. For more info, visit us at https://www.sahayogdiagnostics.in/.